UPCOMING MAY/JUNE 2019 - OVERTOON NEWSLETTER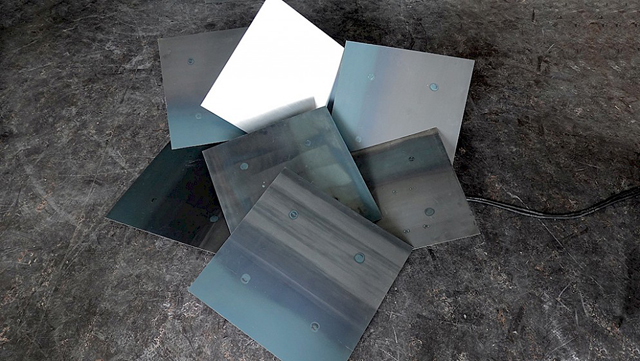 Murmurs by Christoph De Boeck

MURMURS BY CHRISTOPH DE BOECK IN CIAP
Luigi Russolo's growlers, cracklers and bursters (and many more) would form an orchestra that would first reflect the new world of the machine and then contribute to human development. The summer exhibition "Growlers, Cracklers & Bursters" at CIAP will focus on sound as a connecting link.

For this occasion Christoph De Boeck aims to re-work the materials from an older installation Staalhemel which consisted of a grid-based ceiling of steel tiles. In Murmurs the tiles are arranged and stacked on the floor, overlapping and supporting each other. The surfaces are activated with analog synth sounds. The sounds cause the panels to vibrate and rub against each other which gives rise to side effect sounds that remind of the artist's recent focus on listening to the internal activities of steel in transformation.
This exhibition was orchestrally brought together in association and in dialogue with all the artists.
With: Anna Godzina – Christoph De Boeck – Daan Gielis – Ersi Varveri – Esther Venrooy – Floris Vanhoof – Imge & Sine Özbilge – Jonathan Paepens – Karina Beumer & Peter Lemmens – Koba De Meutter – Lydia Debeer – Maika Garnica & Willem Coenen – Robert Soroko – Willem Boel – Winnie Claessens

Growlers, Cracklers & Bursters, group show
Murmurs by Christoph De Boeck
CIAP in Hasselt, Belgium - Lombaardstraat 23
From 31 May 2019 to 1 September 2019
Hours: Wed - Fri: 11.00 - 18.00, Sat - Sun: 13.00 - 17.00
---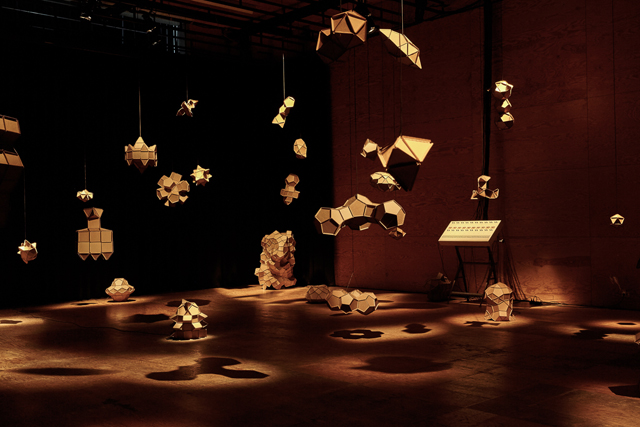 Polyhedra by Floris Vanhoof © We Document Art
FLORIS VANHOOF IN GHENT
Floris Vanhoof presents The Fluid Computer expo with three installations in the vicinity of Zwarte Zaal at KASK: The Fluid Computer, Polyhedra and Talking Gongs.
The opening evening features 'The Fluid Computer' LP and book presentation, followed by a performance of Alvin Lucier's pioneering work Vespers.
De Vloeibare Computer, solo show
Polyhedra by Floris Vanhoof
Zwarte Zaal in Gent, Belgium - Louis Pasteurlaan 2
From 24 May 2019 to 2 June 2019
Opening on Thursday, 23 May 2019 19:00
Order your copy of the The Fluid Computer here.
---
Sortie de résidence, talk
by Yann Leguay
Lieu multiple in Poitiers, France - Planetarium: 1, place de la Cathédrale
17 May 2019
Hours: 18:30 - 20:00h
---
Klankvorm/Mechanism, special event
Hidden Patterns by Mariska De Groot
BAR in Rotterdam, Netherlands - Schiekade 201
From 18 May 2019 to 19 May 2019
Hours: 23:00 - 6:00
tickets here
---
Blooming Festival
Nibiru, audiovisual performance by Mariska De Groot
Palazzo Bruschi in Pergola, Italy - Piazza Garibaldi, 4,
From 28 June 2019 to 30 June 2019
---
Festival Bruisme
Volta, performance by Yann Leguay
Lieu multiple in Poitiers, France - 1, place de la Cathédrale
30 June 2019
---
ONGOING
Festival Tweetakt 2019
Cinechine II by Mariska De Groot
Fort Ruigenhoek in Utrecht, Netherlands - Groenekan
From 29 March 2019 to 16 June 2019
Hours: 11:00-18:00