UPCOMING JUNE 2017 - OVERTOON NEWSLETTER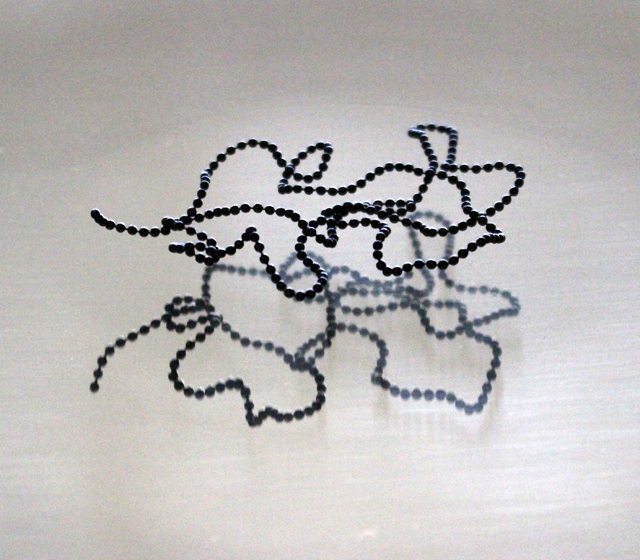 On Random Walks - Franziska Windisch © Franziska Windisch

'ON RANDOM WALKS' IN CENTRALE.box
On Random Walks is a new installation by Franziska Windisch, Overtoon production resident in 2016. The installation was selected by curator Nicole Gingras for CENTRALE.box, a solo exhibition parallel to the main exhibition Où sont les sons? Where Are Sounds?.
On Random Walks revolves around the phenomenon of knots in vibrated granular chains, an effect of random movements caused by the the balanced interplay of radiation (sound) and gravity. In physics, granular chains are used as a model to study the behavior of string-like objects such as DNA, RNA, or polymer macro-molecules that often become entangled.
An array of brass plates of different diameters are connected to the voice coils of bass speakers: They are set into vibration at infrasonic frequencies. A multi channel composition of varying frequencies and amplitudes operates the bass speakers. A bead chain is placed in the center of each plate. Excited by very low, inaudible oscillations they start to move in unpredictable ways, which leads at times to spontaneous knot formations in varying complexity as well as their instantaneous dissolution. The bouncing strings in turn, slightly strike the brass plates and create a pulsating field that constantly shifts by time, by the visitors walk through it and the change of one's perspective.
A production of Overtoon with the support of the Flemish Community

CENTRALE.box: FRANZISKA WINDISCH, solo show
On Random Walks by Franziska Windisch
CENTRALE for contemporary art in Brussels, Belgium Sint-Katelijneplein 44
From 29 June 2017 to 10 September 2017
Opening on Wednesday, 28 June 2017 18:30
Hours: WED > SUN 10:30 > 18:00
Free entrance
---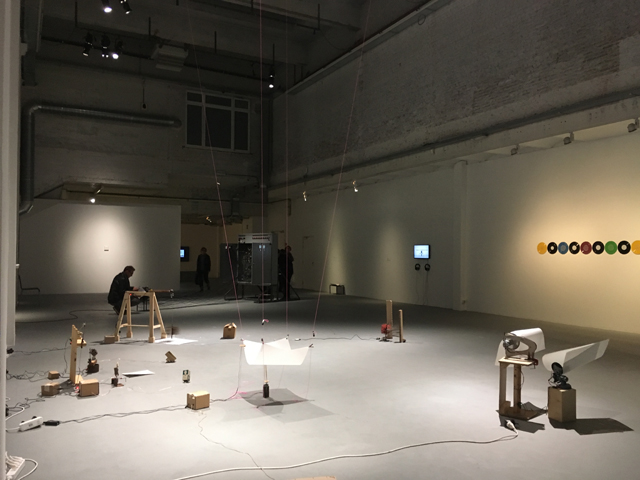 Où sont les sons? Where Are Sounds? © Eric Mattson

ROUND TABLE: SOUND IN VISUAL ART
An international panel of experts will gather to debate sound in visual art. Over the recent years we have observed a revived dynamic in the role of sound throughout a variety of visual art work. In the course of an afternoon we want to take a closer look at this hybrid field with interventions by curators and artists who have affinities with the dimension of sound in art.
The round table is an event in the context of the exhibition Où sont les sons? Where Are Sounds? curated by Nicole Gingras, with the support of Kunstenpunt.
With interventions from Nicole Gingras, Daniel Muzyczuk, VOID, Rahma Khazam, Aernoudt Jacobs, Niels Van Tomme, Tasja Langenbach, Anne-Laure Chamboissier, Lucie Knockaert, Yves Bernard, Wytske Visser, Ana Ascencio. Moderated by Esther Venrooy.
Check the full program here.
SOUND IN VISUAL ART, round table
CENTRALE for contemporary art in Brussels, Belgium - Sint-Katelijneplein 44
28 June 2017
Hours: 13:30 - 18:00
Free entrance, registration required:
T. +32 (0)2 279 64 52 - info@centrale.brussels
---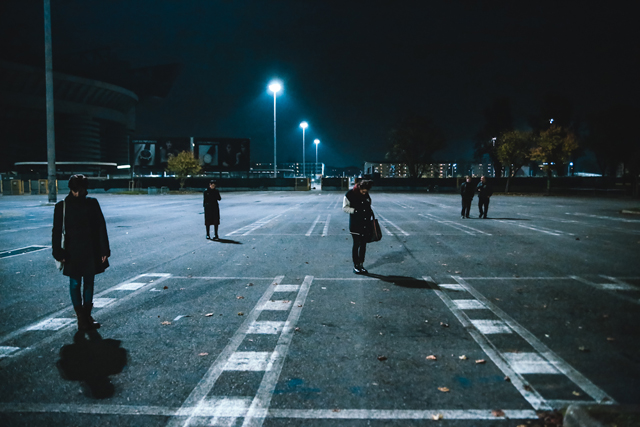 Davide Tidoni - Night Walks © Michela Di Savino

NIGHT WALKS WITH DAVIDE TIDONI
OVERTOON production resident Davide Tidoni contributes to the running exhibition Où sont les sons? Where are sounds? with Night Walks. Night Walks is a series of sound performances and listening exercises presented in outdoor spaces at night. The activities are based on Davide's current research on sound propagation in open space, active listening, and the staging of site-specific actions that involve the use of microphones and loudspeakers as performative instruments. Each night has its own specific program and is designed in relation to the encountered spaces. Walking in the city with Davide Tidoni is an opportunity to detect sounds, recognize them, be alert to them.
A variety of concepts are explored by the artist: resonance, echolocation, reverberation, retroaction, the sense of the void, and the notion of the threshold. Participants will be invited to actively contribute to the proposed activities.

NIGHT WALKS by Davide Tidoni, performance
CENTRALE for contemporary art in Brussels, Belgium - Sint-Katelijneplein 44
Tue 27 and Thu 29 June 2017
Start: 20:30 (duration 3-4 hours)
Free - Reservation required: info@centrale.brussels
---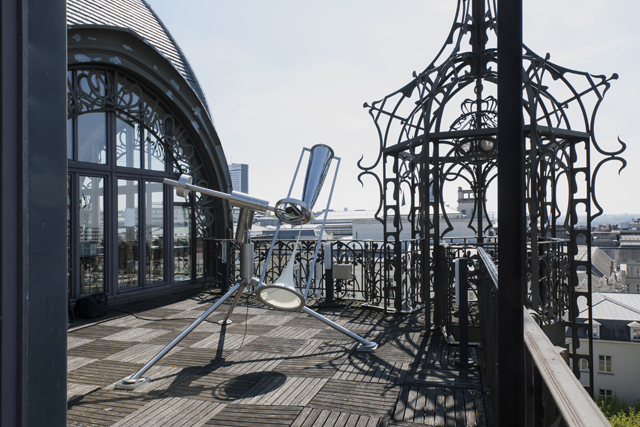 Heliophone - Aernoudt Jacobs © Philippe De Gobert

HELIOPHONE AT MUSICAL INSTRUMENTS MUSEUM - last weeks

HELIOPHONE by Aernoudt Jacobs
Musical Instruments Museum, Brussels, Belgium - Hofberg 2
From 19 April to 2 July 2017
Hours: Tue - Fri : 9:30 - 17:00; Sat - Sun: 10:00 - 17:00
Free access during the museum's opening hours.
Additionally, by appointment, there are limited visiting times of the installation on the terrace on sunny thursdays between 3pm and 4:30pm, in presence of the artist.
Send a mail to heliophone@overtoon.org
---
ONGOING

MURMUR, group show
Floating Beam by Christoph De Boeck
Netwerk Aalst in Aalst, Belgium - Houtkaai 15
From 8 April 2017 to 2 July 2017
Hours: Wed - Fri: 11:00 -17:00; Sat-Sun: 14:00-18:00

Où sont les sons? Where Are Sounds?, group show
curated by Nicole Gingras
Golfvorm by Christoph De Boeck
Heliophone by Aernoudt Jacobs at MIM
Night Walks by Davide Tidoni
W/HOLE Expansion by Katerina Undo
On Random Walks by Franziska Windisch
CENTRALE for contemporary art in Brussels, Belgium - Place Sainte-Catherine 44
From 20 April 2017 to 10 September 2017
Hours: Wednesday > Sunday 10:30 > 18:00

PLAY IN, group show
Walls by Stijn Demeulenaere
The syndrome of Griselda or the procession of the Ship by Katerina Undo
art.ur in Saluzzo, Italy - Castiglia, Piazza Castello
From 6 May 2017 to 25 June 2017